Robert Eglet: MGM Agrees to Pay Up to $800M to Settle Las Vegas Shooting Lawsuits
The total settlement is between $735 million and $800 million, according to plaintiffs lawyers, who announced the deal Thursday. It resolves lawsuits brought over the 2017 mass shooting at MGM's Mandalay Bay Casino in Las Vegas.
By Amanda Bronstad | October 03, 2019, Law.com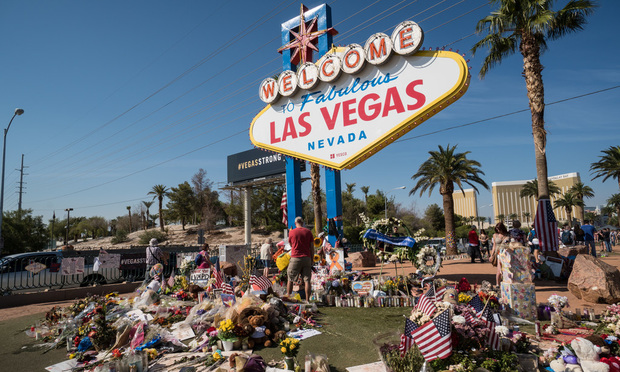 Flowers and gifts at the memorial park by the Mandalay Bay on the Vegas Strip at the Welcome to Las Vegas sign to remember victims killed in the Las Vegas attack shooting. Oct. 13, 2017.
MGM Resorts International has agreed to pay up to $800 million to settle lawsuits brought by victims of the 2017 mass shooting at its Mandalay Bay Casino in Las Vegas, according to plaintiffs lawyers, who announced the deal Thursday.
The total settlement is between $735 million and $800 million, depending on the number of victims who participate, according to a release by Las Vegas-based Eglet Adams, which represents 2,500 victims and their families. At a press conference on Thursday, Robert Eglet, name partner at Eglet Adams, said the total number of potential claimants was about 4,400, represented by more than 65 law firms, and he believed that "quite frankly, that all claimants, represented claimants, will choose to participate."
He lashed out at Congress for failing to overturn a federal statute that allows gun manufacturers to be immune from product liability lawsuits.
"If you want to do something about the gun violence in this country, repeal that statute and let American juries decide if the risk of putting these types of weapons of mass murder on the streets outweighs the benefit," he said. "I have a feeling American juries would stop the sale, and cause a lot of incentive to the gun manufacturers to stop making and selling these types of weapons in this country, if they were subject to liability just like every single other industry in our country is for their negligence or their defective products."
"That," he said, "is the quickest way and swiftest way to try to at least put a dent in this problem."
MGM, which is the largest employer in Nevada, admitted no liability as part of the settlement.
"Our goal has always been to resolve these matters so our community and the victims and their families can move forward in the healing process," MGM Resorts CEO and Chairman Jim Murren said in a statement. "We have always believed that prolonged litigation around these matters is in no one's best interest. It is our sincere hope that this agreement means that scenario will be avoided." 
Eglet, in an unusual move, heaped praise on MGM.
"What MGM has done here through this process, and through this mediation, represents the highest standard of corporate citizenship I have ever seen in my career," he said. "They are, quite frankly, a shining example of what corporations can do in America, in that they can both do well for their shareholders as well as do well for the community. And MGM proved that in this case."
On Oct. 1, 2017, Stephen Paddock was a guest on the 32nd floor of the MGM's Mandalay Bay Resort and Casino hotel, where he stockpiled an arsenal of weapons used to fire at concertgoers at the Route 91 Harvest Festival. He killed 58 people and injured hundreds.
Lawsuits filed over the shooting are mostly in Clark County District Court in Las Vegas, but MGM filed nine lawsuits in federal courts against 1,977 victims who either sued or threatened to sue the company for failing to provide security that would have prevented the shooting. The suits sought declaratory relief that MGM was not liable for injuries or deaths.
The settlement resolves those declaratory relief actions, according to Eglet Adams.
MGM's suits, filed across the country, struck an immediate backlash, both on social media for targeting the shooting's victims and from plaintiffs lawyers who accused the company of forum shopping. At Thursday's press conference, Eglet acknowledged that his views about MGM had changed since then—he said he would even put his family up in one of their hotels. 
"Last year, I was the loudest voice in the country," he said, "saying negative things about MGM when they sued a number of the victims in this case. And MGM, at that time, you recall, kept saying to the press we just want to figure out a way to get all these cases in one venue to work toward resolution of litigation. I didn't believe them. I said I don't believe that's true. But I was wrong. I was wrong. And they proved that to me in the first several weeks of this mediation. It became very clear that was their intention."
The value of the settlement is in line with MGM's estimate filed with the U.S. Securities & Exchange Commission earlier this year. At the time, MGM notified investors that it had $751 million of insurance coverage available.
Two other lead plaintiffs attorneys, Mark Robinson of Robinson Calcagnie in Newport Beach, California, and Kevin Boyle of Los Angeles-based Panish Shea & Boyle, served as lead plaintiffs attorneys in the deal. The law firms involved in the settlement represent "substantially all plaintiffs in litigation," according to Eglet Adams. In court records, MGM had estimated that as many as 22,000 victims could sue over the shooting.
But the statute of limitations to sue MGM ran out on Tuesday, the two-year anniversary of the shooting, lawyers said.
Neither Eglet nor Boyle, reached after the press conference, could say how much of the settlement would end up going to attorney fees and emphasized that each claimant would have separate arrangements with their lawyers. Eglet also couldn't give an average payout to the victims, who must opt into the settlement, and said that third party administrators would determine the individual claimant amounts. He expected the first checks to go out by the end of next year.
Eglet praised the work of two mediators in the settlement: Former Los Angeles Superior Court Judge Louis Meisinger and former Clark County District Court Judge Jennifer Togliatti.
Brad Brian of Munger, Tolles & Olson in Los Angeles represented MGM.
https://www.law.com/2019/10/03/mgm-agrees-to-pay-up-to-800m-to-settle-las-vegas-shooting-lawsuits/?slreturn=20190903181209