Judith Livingston: Lawdragon Lawyer Limelight: Judy Livingston and Tom Moore
Published on: 04/22/2020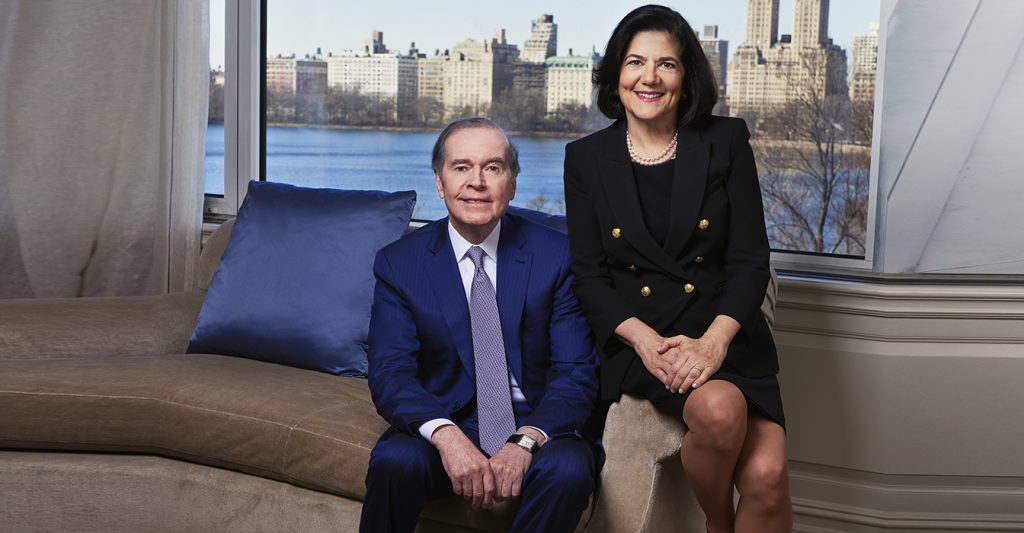 Photo by Laura Barisonzi. 
Tom Moore and Judy Livingston have worked alongside each other for over three decades, achieving personal injury verdicts for clients and their families that have reshaped the standards of medical practice in this country. Their cases have led to limits in the number of hours medical students can work as residents to avoid the exhaustion that can lead to errors, and better standards for administering anesthesia. This powerhouse duo also happen to be married with three children, two of whom are pursuing careers in the law. They are two of the named partners at Kramer Dillof Livingston & Moore, based in New York.
Lawdragon: Your firm is very busy and well-respected in the medical malpractice and personal injury field. Will you talk a bit about your selection process when it comes to taking on new clients?
Tom Moore: Our firm long ago decided it would never get too big to give personal attention to all clients. As a result, the selection of cases we choose to spend our energies on is paramount. The severity of the injury is always an overriding consideration. We look for cases that challenge us. We don't care how tough the case is, as long as it is significant and valid. 
Lawdragon: How did you each make the decision to focus your practice on plaintiff-side, personal injury cases?
TM: Growing up in Ireland, I developed a deep compassion for the plight of those in need. I supported myself through Fordham Law School at night by working days for an insurance company. Immediately, I realized that my heart was always with the injured. On the day I was admitted to the bar, I tried my first case, and haven't stopped since. I quickly gravitated to the plaintiff's side, identifying with those who were most injured, with a strong desire to champion their cause. 
Judy Livingston: I realized in my first year of law school, upon reading the seminal decision of Palsgraff v. Long Island Railroad, that the law is fraught with technicalities that can deprive victims of justice. I decided then to spend my career representing those victims and overcoming the deck that was stacked against them. Having raised three children and being constantly aware of the importance of family, my particular sympathies always lie with children who lose a parent or families torn apart by negligence. 
LD: Judy, you became a trial lawyer at a time when that was still quite uncommon for women. Do you have any advice for anyone currently feeling underrepresented in this already-adversarial field? 
JL: When I first started trying cases it didn't even dawn on me that the fact that I was a woman should be any impediment to being in the courtroom. I always felt that jurors are intrigued by people who take on non-traditional roles. I pass on the advice I was given long ago, to never be intimidated by your adversaries. People who try to take advantage of you because of your differences are often exposed for their prejudices. It might be the gruff man who tries to bully a woman or the racist who uses "dog-whistles" in the hope of sending messages to like-minded jurors. While, unfortunately those tactics might work occasionally, the smart adversary can often use them to her advantage. 
LD: In what ways does your firm train and mentor younger lawyers? 
JL: Recognizing the very long and difficult learning curve to become a good plaintiff's lawyer, we encourage great participation by younger lawyers in the exciting aspects of a personal injury practice. Mentoring isn't just an "in office" event, but occurs at arguments of appeals, depositions and all aspects of trials. To subject young lawyers to only the drudgery of the paper practice without exposure to the real life drama of the courtroom would not encourage or lead young talented lawyers to the real heart of the practice. 
LD: Over your 30+ years each doing this type of work, are there any particular cases that stand out as having a broad or profound effect on the medical industry as a whole? 
JL: We are quite proud about how we have not just helped the individuals we have represented, but the very broad impact to society at large as a result of many of our cases. 
One case we tried together was on behalf of Libby Zion against New York Hospital and treating doctors. She was 18 years old when she was brought into New York Hospital and treated by overworked, sleep deprived, unsupervised residents. These young, inexperienced physicians were working 36-hour shifts, and that lack of sleep and supervision resulted in a litany of errors causing Libby's death. Her tragedy, made public by the lawsuit, lead to nationwide rules limiting the number of hours doctors in training were allowed to work.
TM: The case of Emma McDougald, a mother about to give birth, who suffered severe brain damage as a result of bad anesthesia care, was, along with similar cases, the compelling motivation in the field of anesthesiology developing technology that largely eliminated the ability for human error in anesthesia delivery.
Lauren Sclafani was severely burned when a bartender poured 151 proof rum on the bar and lit the bar on fire. Not long after this lawsuit was concluded, this 151 proof rum was taken off the shelves and no longer produced, saving many from the stupid antics of bartenders and the inebriated. 
JL: In Lee v. New York Hospital Queens, a man walked into the emergency room, requiring surgery to remove his gallbladder. After admission, he languished for 3 ½ days, without having the operation, and as a result, developed sepsis and died a painful death. Because Mr. Lee was in 60's, with very low earnings and adult children, the defense tried to get away with paying a pittance for his pain and suffering and death. As a result of the verdict, instead, they paid record numbers for a plaintiff in these circumstances.
LD: What trends are you seeing in medical malpractice or personal injury law these days, in terms of the type of work keeping you busy?
TM: A very positive trend we have witnessed is the general, though not universal improvement in the quality of breast cancer diagnosis. Gone are the days of doctors thinking they could tell by palpation whether a breast lump is cancer or not. Now, by a combination of lawsuits and better education of the public and medical profession, generally patients are being diagnosed earlier, the quality of care has improved and the cases are fewer. 
A growing negative trend is the increasing frequency of distracted driving, leading to huge increases in the cases involving pedestrians and bicyclists, who are severely injured.
JL: The lack of humanism by physicians towards their patients, shocks us to this day. If doctors would only read and follow the great work of the late Dr. Arnold Gold, of Columbia Presbyterian Medical School and his wife Dr. Sandra Gold, founders of the White Coat ceremony, the Gold Foundation, and champions of humanism in medicine, care would be far superior and medical negligence less common. 
LD: How would you describe each other's styles as lawyers? 
JL: Tom's unique style has set the standard in personal injury trials for nearly 3 decades. He has achieved a record of 92 verdicts in excess of one million dollars, most of which are in excess of ten million dollars and 4 verdicts over $100 million dollars, everyone on behalf of individual plaintiffs. This extraordinary success is owing to his total belief in the justice of his cause and his deep compassion for his client. His passion is the foundation of both his withering cross-examinations and mesmerizing summations. 
TM: Judy learned a long time ago that being thoroughly prepared is the cornerstone to success in the courtroom. While the long hours and hard work are necessary, the fruits of that labor bring about the exciting, spontaneous moments that fascinate jurors. Judy has the unique talent of being able to pull together the subtle pieces of evidence in a way that leads witnesses down the road to confessing the truth. 
LD: Does it look like any of your three children might follow your footsteps and get into the law?
TM: My how time flies! Our youngest son, long ago, let us know that his many and varied interests lay far from the law.  
JL: Our daughter, one year out of Fordham law school, is an associate at Boies Schiller Flexner LLP, loving their exciting and varied litigation practice.
TM: Our son, James, joined our firm after working as an Assistant District Attorney in Brooklyn. So far, he has tried two cases. One started trial as a "no pay" case, but settled at the close of the plaintiff's evidence. The other, also a "no pay" case, resulted in a verdict in the sum of $3,590,000, more than he asked for on summation!
LD: What do you two do for fun outside of the office?
TM: Fun covers a range of activities. It's dinners and weekends with the family, playing with the dog on the beach, an occasional round of golf…
JL: And for Tom, hours of exercise, including running and occasional biking. 
By Alison Preece April 22, 2020 Lawyer Limelights
 http://www.lawdragon.com/2020/04/22/lawyer-limelight-judy-livingston-and-tom-moore/